LIMITED 1st EDITION
the art photo book
Beate Sandor • SHOWTIME Kings & Queens from A to Z
123 authorized musicians portraits
music history of a decade (2004-2014)
ISBN Nr. 978-3-200-04632-0
release date: October 31, 2016
all photos 2004-2014 © Beate Sandor, Bildrecht 2016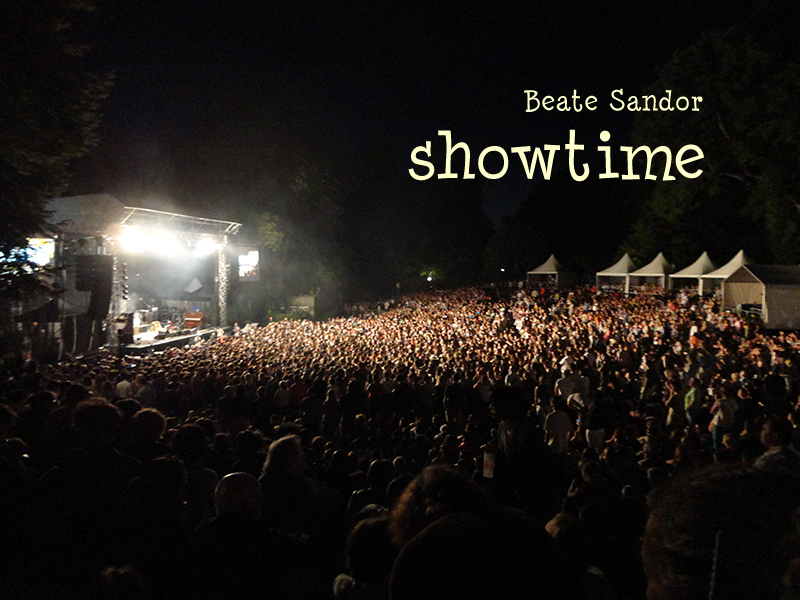 a personal note..
the idea to this art photo book was born only for one reason: to benefit musicians, if they are included in it, or not.. My wish is, that after publishing a big part of the gains flows back to them, who inspired me, my art during my whole life (52) and are working hard just for uplifting our soul. Even if I myself am a visual artist, the fuel and the focus to this silent compilation was and remain the love to the BLUES. This is just a small cross section through the time over one decade of music history - captured through the lens from a time witness. This book could never be completed, there are so many great musicians worldwide! My apology goes to those artists, who couldn't be included in it. It doesn't mean, I wouldn't like their music, I just don't make concert photographies anymore. I also would like to thank to the many-many true artists, also to my personally musician friends for their overwhelming feedback to my initiative. It gives me even more power to publish this art photo book, with which I am trying to keep those fabulous ten years alive, showing through my own skills my deepest respect to all, also i.M. who already are gone, and my high appreciation to them who still keep continuing their fight, doing their great work every day.
sincerely: Beate Sandor
I started with the final design backwards from the "Z", small changes are still possible until September 20. 2016
following artist portraits will be included in the art photo book "showtime - kings & queens from A to Z":
Allen Toussaint †, Anne Harris, Ash Grünwald, B.B. King †, Bernard Allison, Beverly Guitar Watkins, Big Al Carson, Billy Iuso - 101 Runners, Big Sam's Funky Nation, Billy Jones, Bjørn Berge, Bob Stroger, Bonnie Lee †, Bryan Lee feat. Eddie Turner, Bryan Lee, Cedric Burnside, Charles Neville, Chris Thomas King (2004, 2009), Chuck Brown †, Clarence "Frogman" Henry, Cool John Ferguson, Craig Klein, Dani Wilde, David "Honeyboy" Edwards †, Davina And The Vagabonds, Dawn Tyler Watson, Deborah Coleman, Dickey Betts, Eddie Shaw, Eddie Tigner, Eddie Vaan Shaw, Eden Brent, Eddie Turner, Eric Lindell, Etta James †, Hans Theessink, Ivan Neville's Dumpstaphunk, Ivan Neville, James Brown †, John Boutté, John Mooney, John Primer, John Mayall, Keziah Jones, Koko Taylor †, L.C. Ulmer †, Long John Hunter †, Little Freddie King, Lil' Ed Williams, Linda Tillery, Linda Tillery & The Cultural Heritage Choir (Melanie DeMore, Elouise Burrell, Rhonda Benin, Linda Tillery, Simon Monserrat, Bryan Dyer), Liz Mandville Greeson aka Liz Mandeville, Lucky Peterson, Lynne Jordan, Madeleine Peyroux, Margie Perez, Marva Wright †, Macavina Hayes † & Sol, Maurice John Vaughn, Michael Burks †, Mitch Woods (2014), Michaela Harrison, Nikki Hill (2014), Nora Jean Bruso, Papa Grows Funk, Paul Sanchez, Popa Chubby, Richie Havens†, Rita Chiarelli, Rokia Traoré, Roland Tchakounté, Ruf Record's Blues Caravan (Dani Wilde, Deborah Coleman, Sue Foley), Sarah Jane Morris, Sharon Jones & The Dap-Kings, Sharrie Williams, Shakura S'Aida, Slewfoot † & Cary B, Solomon Burke †, Spencer Bohren, Sue Foley, The Blind Boys Of Alabama, Tia Gouttebel (Tia and the patient Wolves) Vusa Mkhaya (Insingizi), Wanda Johnson, Washboard Chaz, Willie Kent †, Willie King †..
+ a few surprises..




all photos © Beate Sandor, Bildrecht (formerly VBK, /ARS since 2001